Corrosion-resistant glass
Finally, the glass for your shower!
No more opaque and corroded glass in the shower already a few years after installation! With GALVOLUX CleanShower® your shower will always be as bright and comfortable as on the first day.
GALVOLUX CleanShower® is the perfect glass for humid environments as it retains its exceptional transparency and lime resistance over time.
For daily cleaning, all you need is a soft cloth, water and a neutral detergent to avoid aggressive products that could damage the coating and affect the transparency and general appearance of the product.
GALVOLUX CleanShower®
Designed to prevent limescale deposits, ideal for the bathroom environment.
This is clear to us: water, humidity and heat affect the quality of the glass in the shower and the coatings in the bathroom over time, resulting in unsightly ageing. This is not the case with GALVOLUX CleanShower®. Thanks to the protective barrier provided by a special permanent treatment, GALVOLUX CleanShower® does not suffer any corrosive effects from moisture, is always perfectly transparent and easy to clean. The high abrasion resistance prevents limescale deposits and allows the glass to retain its natural shine and transparency over time.
Comparative analysis
Ageing tests at high temperatures and humidity show that GALVOLUX CleanShower® limits corrosive processes and limescale deposits compared to untreated glass.
Features and benefits
By far the best product on the market.
The special and durable treatment of the GALVOLUX CleanShower® glass guarantees an exceptional, constant and long-lasting resistance to corrosion and limescale deposits. In particular, the transparency of GALVOLUX CleanShower® in its extrawhite version is far superior to all other corrosion-resistant glass products available on the market.
GALVOLUX CleanShower® also allows additional specific treatments to make the water glide faster off the glass surface for even better protection and easier and faster cleaning.
Fields of application
Showers, shower cabins, wall coverings around the bathtub.
Public swimming pools, hospitals.
Contact Galvolux
Do you want to know more about
CleanShower
?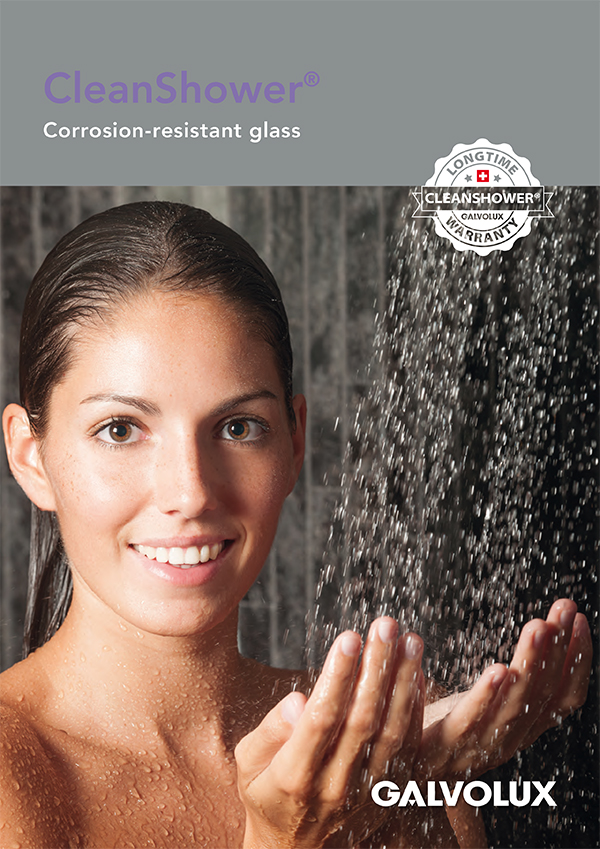 CleanShower®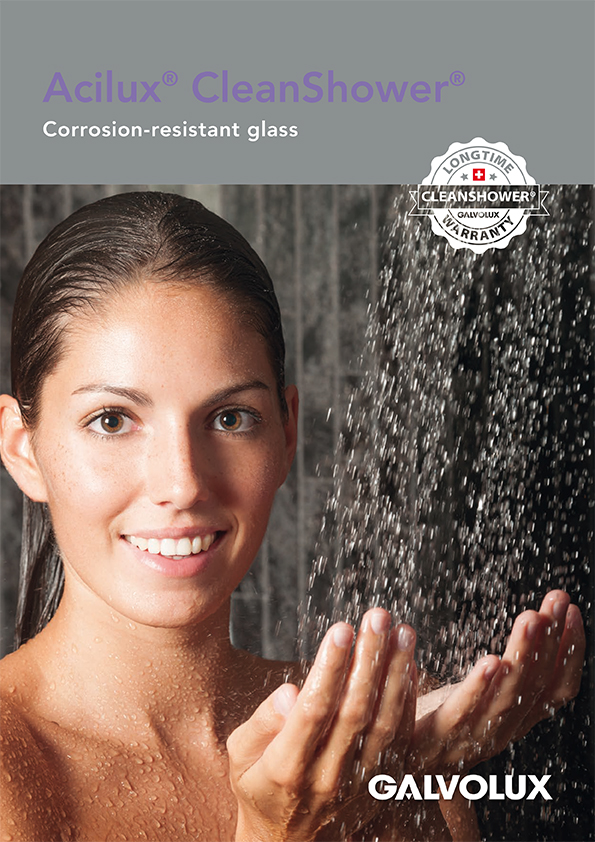 Acilux® CleanShower®